Cooperative Project Speed2E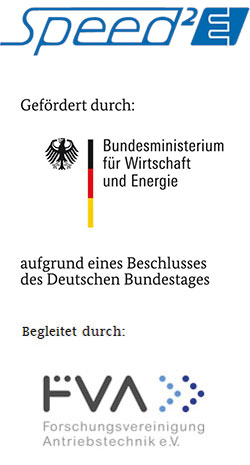 Period: 2014-2017
Cooperation: TU München (FZG), Leibnitz Universität Hannover (IAL, IMKT)
Support: see right
The overall goal of Speed2E was the development, optimization and test of a high-speed electric powertrain. Increasing the speed of the electric machine has the potential to significantly increase the power density of the electric machine and the overall efficiency of the vehicle. In order to meet requirements regarding drive-of-torque, top speed, efficiency and driving comfort, a powertrain with two electric motors was built, with a multispeed sub transmission. With the help of the operating strategy and transmission control developed for this innovative drivetrain by IMS, a safe, efficient and comfortable operation was realized and validated on a test bench.
Contact: Daniel Schöneberger
Further informationen you can find on the project website.