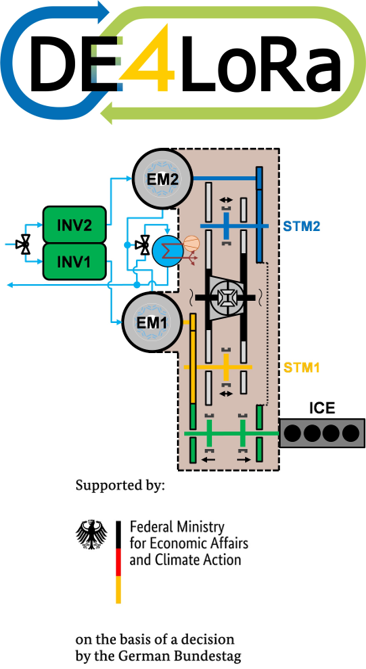 Period: 2021 – 2024
Consortium: AVL Software and Functions GmbH, BMZ Germany GmbH, COMPREDICT GmbH, Dinex Deutschland GmbH, EW, Hyundai Motor Europe Technical Center GmbH, IMS, ISAR GETRIEBETECHNIK GMBH & CO. KG, LEA, Vitesco Technologies GmbH, VKM, Windschiegl Maschinenbau GmbH, TU Darmstadt (EW, LEA, IMS, VKM)
Founding: Federal Ministry for Economic Affairs and Climate Action
Future vehicles should be efficient and environmentally friendly, as well as suitable for everyday use and affordable. This can be achieved with a wide variety of powertrain systems. In the DE4LoRa project "Double-E-Drive for Long Range", a prototype drive concept is being developed with a highly efficient electric powertrain that can achieve long ranges through additional hybridization.
The novel powertrain concept is based on the findings and results of the DE-REX and Speed4E projects and is to be tested in a prototype vehicle under real driving conditions after successful bench tests. The vehicle is designed to combine various economic, ecological and comfort objectives. In contrast to state-of-the-art long range electric vehicle, the high range of over 500 km is not achieved by a large battery, as this is expensive and energy-intensive during production and recycling and has a significant impact on the curb weight of the vehicle. Instead, a smaller battery will be installed to cover over 90 % of the trips of an average German driver. To enable the infrequent longer trips, the electric powertrain will be enhanced with a gas engine that will run on renewable methane. This reduced the vehicle's curb weight, which lowers consumption during electric driving. Over the vehicle's lifecycle, CO2 emissions can also be minimized, and its resilience is increased.
As a partner of the project, the IMS is working on optimizing the powertrain for real-driving operation with a focus on the electrically synchronized shifting processes of the dog clutches and the operating strategy in combination with a transmission oil conditioning for maximum electrical efficiency, even for short distances and in cold weather conditions.
Contact: Aaron Kappes , Edward Kraft , Felix Langhammer
Further Information: project profile (opens in new tab), press release (opens in new tab), development of the electric machine